I was honored to be selected as the so-called "cover star" for the March, 2021 edition of a little magazine in my neighborhood, "Sutton Place Social", on the East side of Manhattan. Can't resist sharing their very generous article ….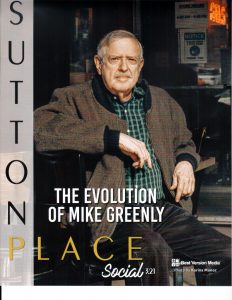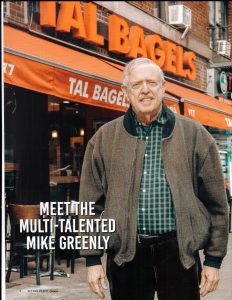 MEET MIKE GREENLY
March brings springtime and new beginnings. So this month we introduce you to a man who's made many new beginnings on his journey to Sutton Place South, where he's lived for decades while continuing to explore still more new beginnings as his life evolves.
When Mike Greenly boarded a Greyhound bus to come north to Manhattan from his hometown of Beaufort, SC, he was already a theater lover. He had worked here as a clerk-typist between his junior and senior years at Duke, and during that time he saw 21 plays that summer and took a playwrighting course in the Village. Now he was back with excitement — he realized that he wouldn't work as a playwright, but that becoming an executive would at least let him afford tickets to shows.

His first job in the city consisted of three years of book publishing at Scholastic, Inc. Then, determined to lift himself, two years of marketing training at Lever Brothers in the "fiercely competitive" world of detergents and toothpastes, all while going to NYU night school for six years where he earned an MBA with Distinction in Marketing & International Marketing.

During those years of study, he made another new beginning, moving to Avon Products – then the world's No. 1 beauty company and No. 1 direct seller. Eventually, he was in charge of creating 300 new products a year, then publishing 22 million Avon brochures every two weeks. Finally, he led the company's many meetings & events where he had to overcome his "stage fright" in that highly motivational organization. Despite being an introvert, he learned to speak effectively and motivate an audience of thousands.
Still more new beginnings were ahead for him. Secretly, he'd been planning to leave and become a full-time psychotherapist, already receiving professional training. He began going to therapy at Duke, which helped him overcome the emotional bruises of having been taunted as "the Dirty Jew Boy" in South Carolina. Psychotherapy helped Mike embrace his authenticity and support others in being themselves, too. Before he could quit to be a therapist, Avon made him the youngest V.P. in their history, so he decided to remain with the company.


After reading Future Shock by Alvin Toffler, Mike realized that the world was entering a new Information Age. He knew that Avon (and he, himself) needed to learn proactively about these new devices called "computers." He shared that recommendation with the company's executive team and they bought him an early Apple II computer so he could dip into the barely emerging online world and help Avon become part of it. Soon he began "meeting" people across the globe via his keyboard.


Mike stayed for several more years, while becoming an early pioneer in online communications. Ultimately he left corporate life and gained a reputation as what TIME magazine called "planet earth's first interactive electronic journalist." He was the first to cover the Democratic and Republication conventions and Hollywood's Academy Awards via computer. Readers around the world followed his coverage, sending comments and questions via their own computers, whether from Tokyo or Tennessee.

Today he makes his living as a writer of executive speeches, PowerPoints, videos and more, as well as being a presentation coach – sharing with execs and their teams what he learned about overcoming stage fright in order to speak comfortably and effectively to an audience of thousands. What's more, having helped to write songs for Avon sales meetings, Mike has also become a lyricist. He's the author of Virginia's state anthem, "Our Great Virginia," along with many Billboard Dance/Club hits (including four No. 1's), choral songs, country tunes and more.
One of Mike's greatest new beginnings was his move to New York. "I've lived all over the City," he says, "but I feel especially lucky to be right here in Sutton Place. To me, it's the best of both City and Local. Very close to Broadway (Come back soon!) and elegant restaurants but with warm, friendly neighbors. Even my beloved Tal Bagels on First Ave. What's more, '60' – as we residents of 60 Sutton Place South happily call it – has what I consider the best driveway in New York City. I proudly brag about it to taxi drivers!"