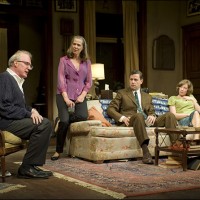 By 1984, I was one year out of corporate life … doing marketing consulting for a client who promised to make me a multi-millionaire (but lied his way into owing me $80,000 forever, which taught me some valuable lessons.)
As an early "interactive journalist" — along with my reports of the national political conventions, Oscars, and computer shows that I shared online — I posted interviews, from San Francisco to Paris, of what would eventually become my book, CHRONICLE: The Human Side of AIDS.
Also in 1984, I saw Stephen Sondheim's Broadway musical, "Sunday in the Park with George". The quality and message of that innovative work of theatrical and staging art moved me tremendously… inspired me to persevere on my own creative path, despite the strains and obstacles I was experiencing.
I remember coming home from the show … sharing in an online article the new motivation it had given me … and receiving back encouragement from far-flung readers whom I would never have met in person. That kind of feedback was the miracle of the "interactive" communications that so many of us were exploring and developing back then.
And now … in January, 2013 … I just saw a landmark production from another genius of the theater: Edward Albee. I attended the show's original production FIFTY years ago (it opened in October, 1962, and I was still a newly arrived New Yorker.) It was a major sensation back then, but the current production — with Amy Morton and Tracy Letts — is astonishing, as well.
The message of the play, and the thoughts it gave me (once again) about living life authentically and finding happiness in who we are — well, they're as powerful as ever.
But the show — the ferocious talent I've just experienced, very much including Albee's writing — made me grateful to have realized that I had not been destined at all to be a playwright. That ability is simply not my gift.
Instead, I'm lucky to have discovered what has felt for many years is what I was meant for … i.e., speech and presentation writing (and coaching executives on how to present themselves with maximum impact on-stage) as a highly satisfying "Day job" … and writing song lyrics, expressing myself in the context of music, as my creative passion.
It turns out, that is who I am. What a stroke of good fortune to have found my real self. And what exciting hopes I have … believing, even at this stage in my life, that the best is yet to come.
May it be so.