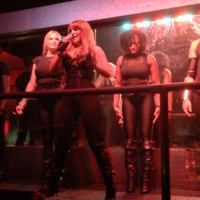 I used to be in the corporate spotlight – with the pleasure and glory (and stress) that comes with it. I learned how to transform myself (on-stage, at least) from a shy, introverted geek with an active mind … to a "performer" in front of a hall of employees whom I needed to touch, motivate, inspire and convince. Now, after those decades of personal growth in front of an audience, the experience enables me to help current executives shine under their own corporate spotlights … and reap the rewards that come, in a business context, from effective presentation skills in a well-crafted message.
Last night, I got to see and hear my words expressed not to fellow employees … but to a live audience. I got heard them sung by a beautiful young woman who really and truly can sing. My trainer, Bryan Mirabella, was there and pronounced Shara Strand "great!" My song promoter, Bobby Shaw — hopefully he'll help bring enough attention to the song that it gets charted on BILLBOARD — was there, right beside me. He not only pronounced his satisfaction with Shara afterward, but he said again that it's "a very good song." Which Bobby doesn't say lightly.
Just as rewarding, I've gotten to hear from people who don't know me at all (by reading their posts on social media sites like this one) talking about the song and finding meaning in "I Will Carry You". I know that my composer, Paul Guzzone, gets similar reactions when he performs it.
Tomorrow, very early, I fly to Orlando. I'll work hard all week doing my utmost to help each executive express her/his message in the clearest, most impactful, most effective way possible. And I will take satisfaction in seeing them shine.
And last night, I got to hear Shara sing and dance and bring to physical life my own personal song of loyalty and love. I got to bask n the cheers of the crowd — quietly, discreetly, like the Southern Gentleman I'll always be. No one needs to know my name –- not the audiences of my clients, not the people applauding Shara. But it's a joy –- and for an introvert like me, a great convenience –- that I can enjoy a meaningful connection to others, simply through my words alone, even as I staying, now, on the sidelines of the corporate ballroom or dance club. I'm lucky.
And I'm glad to have this place where I can share my thoughts with you.