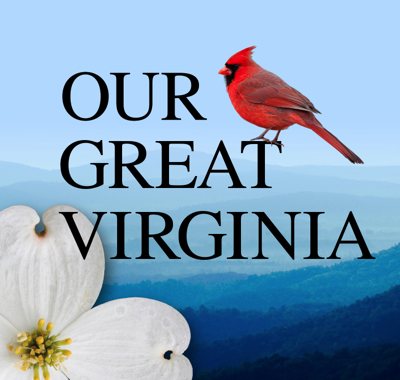 Growing up in South Carolina, even while being taught about my home state, I developed a special reverence for Virginia and its place in the nation's history. It's known, of course, as the birthplace of our first President … then Jefferson … continuing through to Woodrow Wilson. I'll never be able to brag about my personal knowledge of history, but I know enough to realize that Virginia has a special heritage. Amazingly — earlier this year — I was honored to be invited to write a tribute in song to the state.
The person who reached out to me was award-winning professor and author Dr. James I. ("Bud") Robertson, Jr. With his wife Betty, he has been on a six-year mission to find a fitting anthem for the state they so deeply love. Virginia has gone for many years without an anthem of its own. In 1940 "Carry Me Back to Old Virginia" — composed as "Virginny" by James A. Bland (1854-1911,) an African-American minstrel — was designated the official state song. In 1997 it was retired from official use because its lyrics were considered offensive by many Virginians. (Understandably so!) Dr. Robertson's quest for a new anthem began in 2008, when he conferred with key members of the Virginia legislature about pursuing the creation of a new state song to the melody of "Shenandoah." The idea was enthusiastically received. Since then, according to Dr. Robertson, he has been an avid one-man committee in trying to get a worthy song produced. Thanks to the recommendation of my professional "song plugger" in Nashville – Chris Keaton (a native Virginian, himself) – I was introduced to Dr. Robertson. Chris is not only one of the finest professionals in his field, but a wonderful friend, as well. I quickly turned to one of my songwriting partners, Jim Papoulis, who can quite legitimately be called a global leader in choral music – in both composing and conducting. Together – with Lead Vocals by Sophia Miller – we created a tribute to the state, entitled, "Our Great Virginia."
You'll find it on iTunes with the voices of the Richmond Symphony Chorus under the leadership of Director Erin R. Freeman.
If you know someone who lives in Virginia – or loves it – I hope you'll let them know that there's now a new musical tribute to a place they care about. Here's the complete Press Release, if you'd like to review it. Media coverage:
OUR GREAT VIRGINIA
You'll always be
our great Virginia.
You're the birthplace of the nation.
Where history
was changed forever.
Today, your glory stays,
as we build tomorrow

I fill with pride
at all you give us –
rolling hills, majestic mountains,
from the Shenandoah
to the Atlantic
rivers wide and forests tall,
all in one Virginia

For each of us
here in Virginia …
from farm to city dweller …
all of us, we stand together.
We're yours, we all are yours –
across our great Virginia

You'll always be our great Virginia
Based on "Oh Shenandoah", American folk song dating back to at least the early 1800's. Arrangement: Jim Papoulis. Lyrics: Mike Greenly Vocal: Sophia Miller Choir: Fairfax Choral Society Concert Choir Director: Patrick F. Vaughn