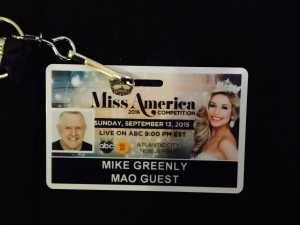 So here I am at the 2016 Miss America Pageant, guest of the M.A. Organization thanks to the phenomenal Kylene Barker McNeill, Miss Virginia (1978) and Miss America (1979.)
I'm experiencing aspects of the competition that I never knew existed and meeting remarkable people of accomplishment and talent. Among them are Kira Kazantsev. She is the third consecutive Miss New York to have become Miss America.   During her reign, she has been working with and championing organizations like United States Military overseas and the Children's Miracle Network Hospital.
I've also had the pleasure of getting to know Kylene's Canadian husband, Ian McNeill — President of Combat Batteries in Mississauga, Ontario, Canada, specialists in industrial batteries and chargers. Given how impressed I've been with Kylene, I wasn't surprised to discover that Ian is an extremely savvy and personable executive, who's also a genial and down-to-earth guy.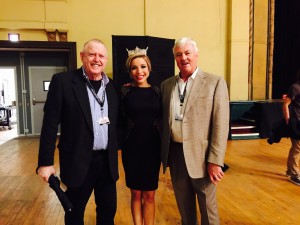 One of the things I experienced on the wet Saturday afternoon of this weekend was the "Show Us Your Shoes" Parade down Atlantic City's Boardwalk. I'd always been dimly aware that there was, indeed, "a parade" … but I hadn't imagined the enormous scale of it all.
With over 4,000 participants, including 15 floats, 15 marching bands, nearly 50 dance troupes, 16 choirs and dozens of special units, the event was more than two hours long.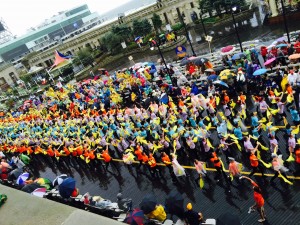 To share the background with you, I'll quote a story by Robert Rosiello on casinoconnectionac.com.
He writes:
Ed McMaster, who served as president of the Miss America Organization for several years before the pageant moved to Las Vegas, told us back in 2004 about its origins.
"Our contestants used to dress in gowns for the parade, but since they were riding in cars and their feet were hidden, they'd wear something comfortable—flip flops, sneakers and slippers," McMaster said. "People got wind of this in the early 1970s and one year tried to sneak a peak at the shoes. They even got up on a balcony but still couldn't see them. Finally they began shouting, 'Show us your shoes!' The contestants thought it was hilarious and decided to give them something to look at. It's been a great tradition ever since ….

The 53 contestants this year had artistic freedom to design their own shoes in whatever manner they felt best represented themselves and their respective states.
As I observed yesterday from the Judges' Balcony, Miss District of Columbia honored the U.S. Marine Corps, Miss Florida had the Gators logo on her shoes, Miss Idaho featured a potato, and Miss Kansas displayed wheat on hers.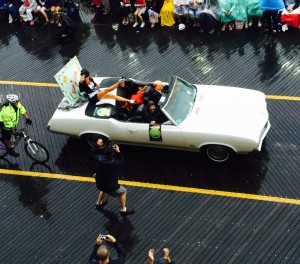 New Jersey proceeded down the Atlantic City Boardwalk with a Monopoly Board.
("Boardwalk" – get it?)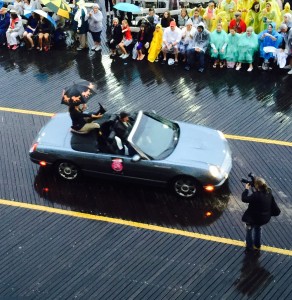 Miss Virginia honored the equestrian excellence of her state with horse-riding boots and horses on her umbrella, etc.
It's all tremendous fun while boosting the diversity and richness of each contestant's home.

What I'm realizing more and more, though, is the magnitude of the effort, talent and discipline that goes into all this. Even more important: how much good the Miss America Organization does by empowering its contestants with life-changing, career-advancing opportunities that help these young women become valuable contributors to our country and to the world after all the pomp and pageantry is done.
Last night, I was invited to the Forever Lounge … an amazing chance to meet and chat with former Miss Americas I had watched as a child and then steadily as an adult over the years. Even some Miss Americas who got their crowns before I was born. All of it giving me a much heightened respect for what the Miss America competition symbolizes … and achieves.