As a corporate speech writer & speech coach, I've worked on many big corporate meetings and events  … for IBM, Motorola, ExxonMobil, J&J, etc. I've also covered major events as a journalist – the Academy Awards, the Republican and Democratic political conventions, big computer trade fairs, etc.
No production I've worked on or written about involves more detail, complexity and emotional sensitivity than the "Miss America" Pageant. Thanks to my having written "Our Great Virginia" – now the official anthem of that state – I was invited to the Pageant by Kylene Barker McNeill, the first Miss Virginia to become Miss America (1979.)
Here she is, arriving on the Red Carpet.
And here's the transformation of the Giant Hall. From this …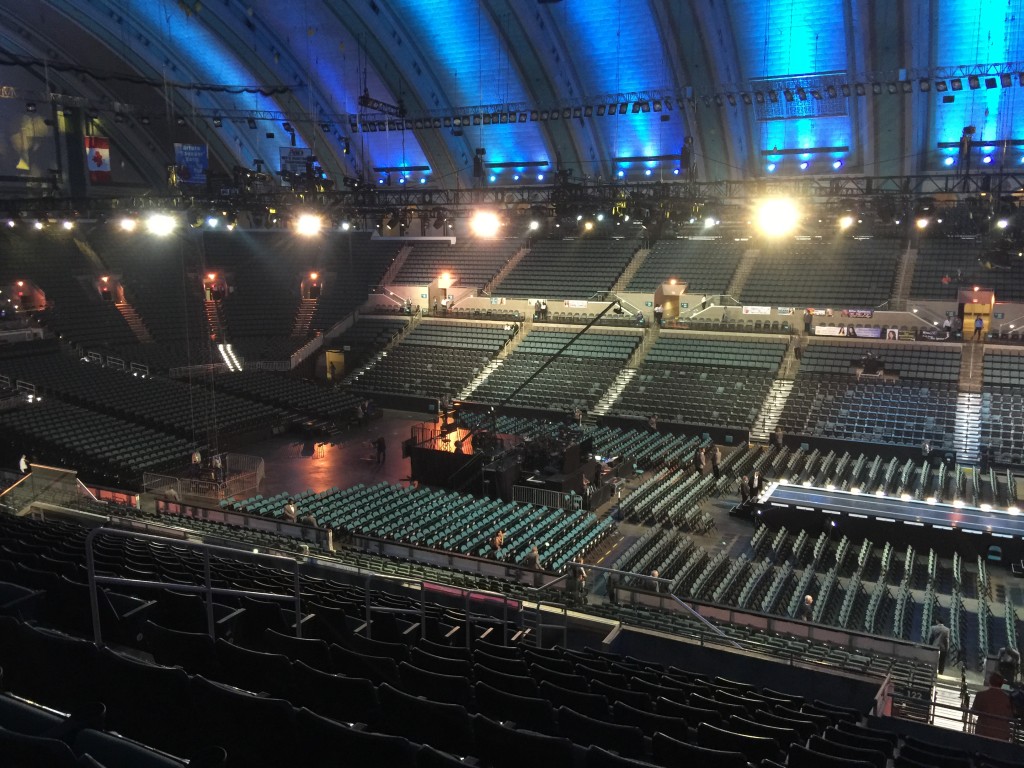 To this …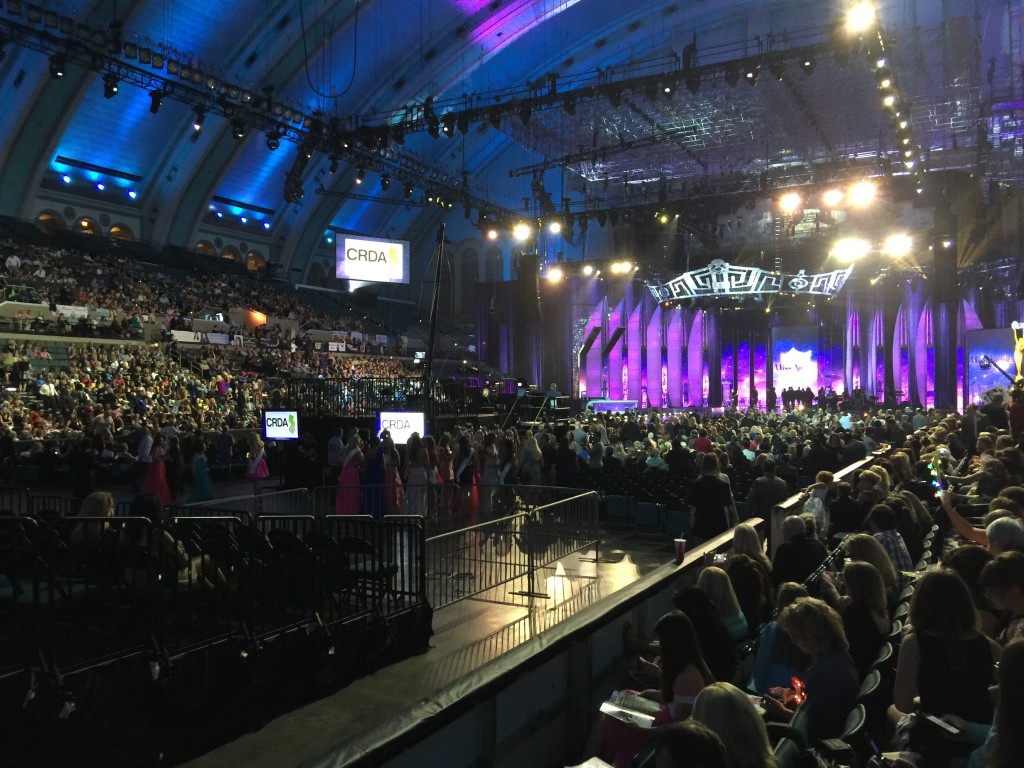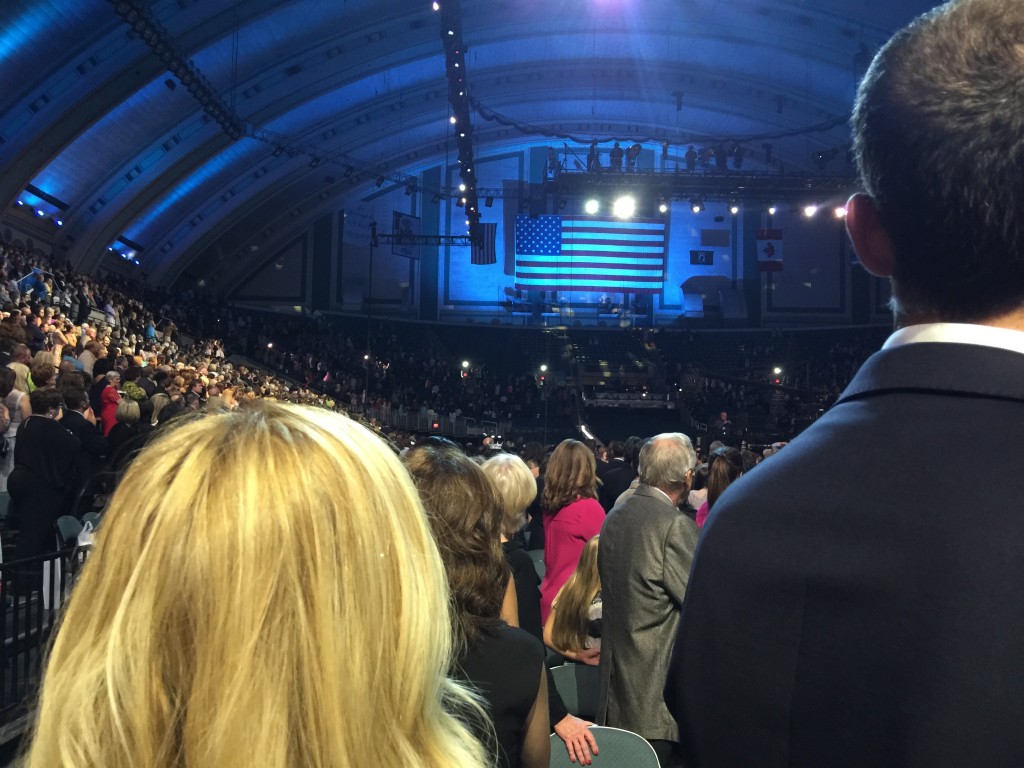 As I was reminded while viewing from prime seats on the sixth row at the front of the stadium Sunday night, there's a tremendous difference in the feeling of watching something spectacular at home and being there live.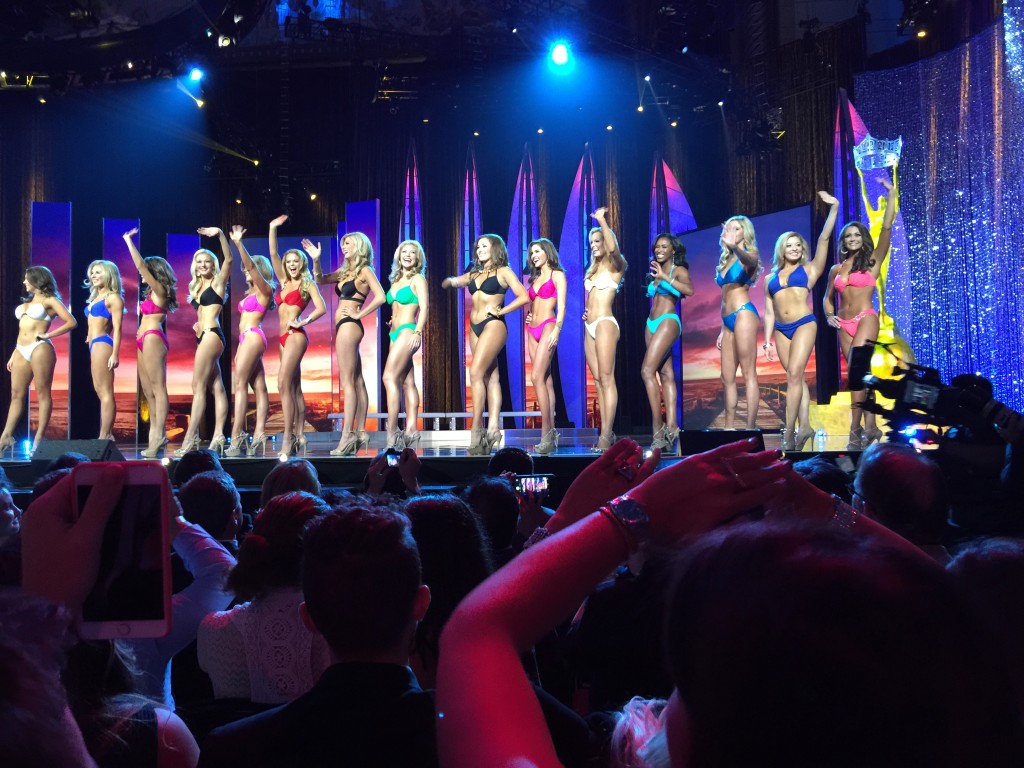 When Sam Haskell, the organization's CEO, apologized to Vanessa, you could feel emotion throughout the hall. For many like myself, it was a symbol of our ability to rise up after a fall or, as Taylor Swift sings, to "shake it off" and move ahead to new triumphs. Here's Kylene, with Vanessa Williams, her "Miss America Sister" (1983.). I don't know it felt at home on TV, but it was quite affecting in the hall.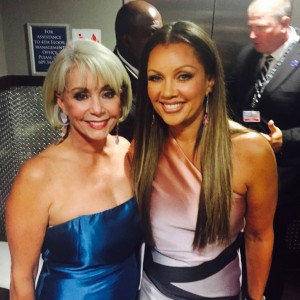 Kylene had likened the in-stadium experience to being at a football game with 52 competing teams. She was right!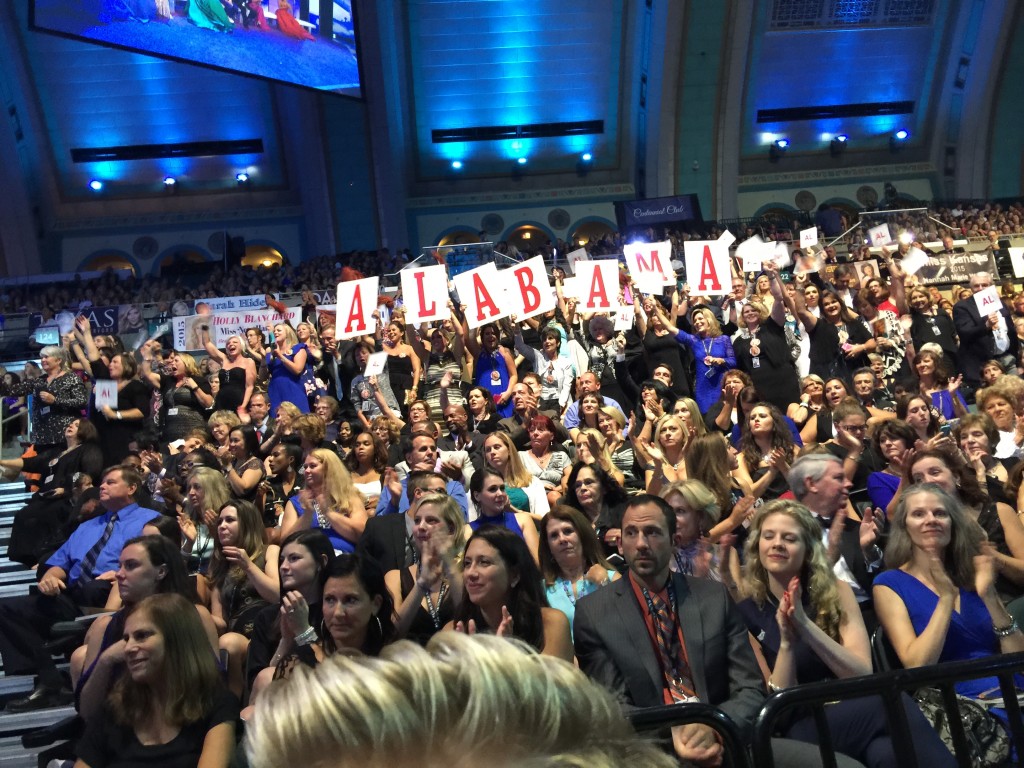 At the end of the show, I got to meet several of the "Celebrity Judges."   Brett Eldredge — American country music singer and last year's CMA winner of New Artist of the Year.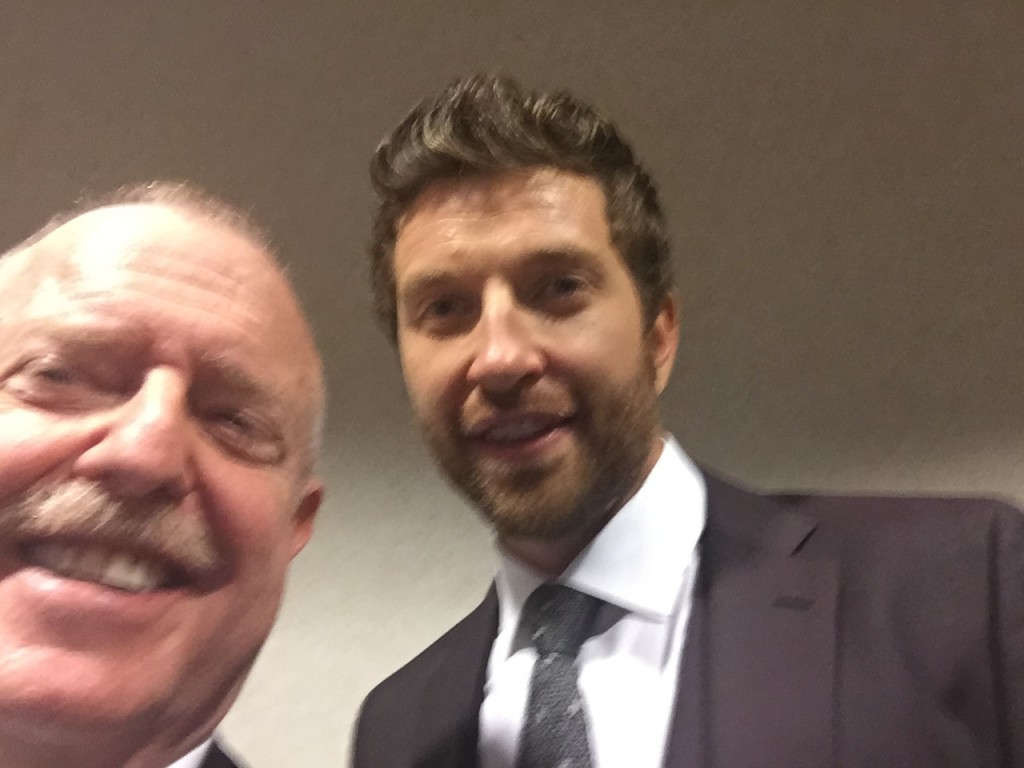 And Kevin O'Leary – Canadian entrepreneur, venture capitalist and judge on TV's "Shark Tank." (Shown here with Ian McNeill, Kylene's very accomplished businessman husband.)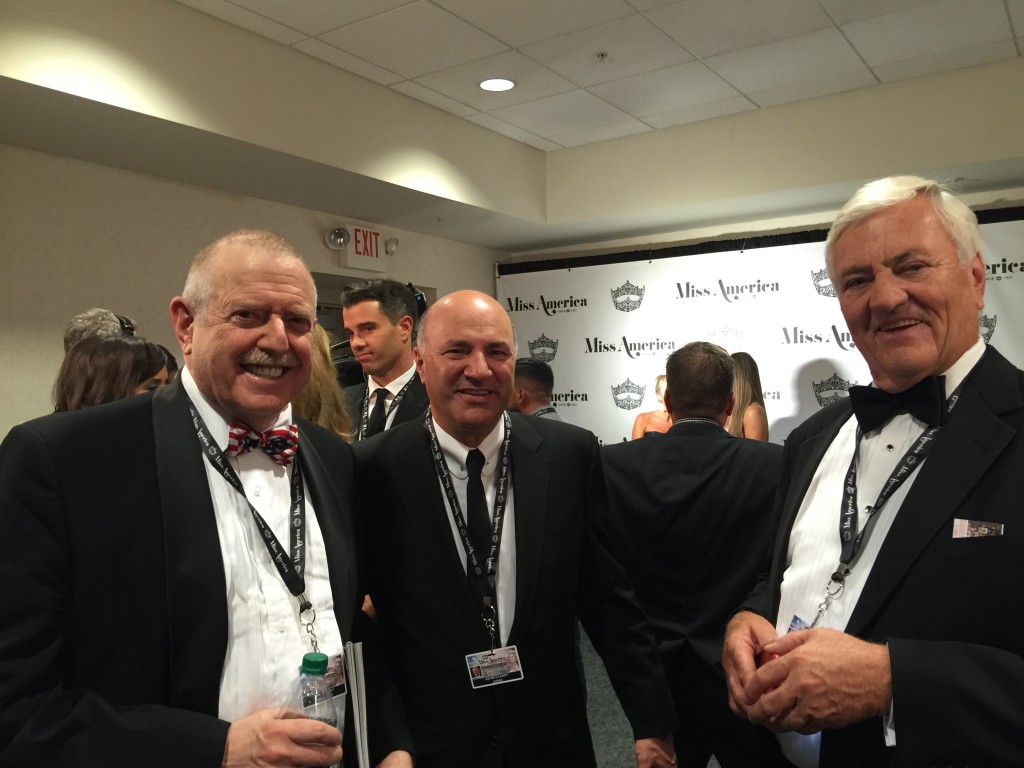 Ultimately, as I packed my bags for the trip back home to my Day Job and to several speechwriting deadlines (I never miss 'em!) — I couldn't help but reflect on three things …
the discipline, talent and drive it takes for every State Contestant to have gotten to Atlantic City in the first place.
the support and love that each contestant showed to the others … more like sisters than competitors.
the real good the organization does –
giving out $303,000 in scholarship money at the national Miss America level
but nearly $6 MILLION in scholarships when national, state and local awards are combined.
THAT is life-changing for many, many young women.
It was a privilege to be there in person, especially in the "invited guest" status I enjoyed. And it was an eye-opener to experience, first-hand, the human dynamo that is Kylene Barker McNeill.
CONTACT DETAILS
60 Sutton Pl S, New York, NY 10022
(212) 758-5338