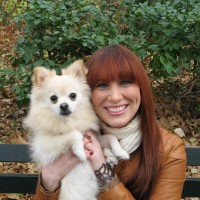 Announcing New Song Partnership to Benefit the American Humane Association
Mike Greenly, Billboard-charted lyricist and former VP of Marketing for Avon Products, Inc, announces his newest songwriting collaboration, which will use his song, "I Will Carry You" to benefit The American Humane Association (AHA.) The song will be released in several versions (Pop, Live Acoustic, Dance Club) by D1 Music as the second single of rising pop phenomenon, Shara Strand, from her debut EP, "Born Tonight."
Mike serves on the Board of Directors of Music Changes the World and the Foundation for Small Voices two non-profit organizations which actively use music to improve life around the world.
America's new pop princess, Shara Strand, is a singularly skilled artist. From her debut EP, "Born Tonight", came her first single release — written by Shara, herself — "Jekyll or Hyde." The song is now available in Pop and Live Acoustic versions, with soon-to-be-released Dance Remixes by D1 Music (Peter McLean and Keith Kemper) and other internationally renowned FIX DJ/Remixers as Wayne Neuman, Mike Rizzo and Paul Goodyear. The song may also be experienced with Shara's Official Music Video. Shara will begin touring a number of US Markets in 2013, helping more and more listeners to discover her.
"I Will Carry You" is currently planned for release by the spring of 2013. It is a song of unconditional love, support, caring and loyalty. Obviously that sentiment applies to the loving bonds and feelings from one person to another.
But our caring as human beings extends beyond just to each other. Shara, for example, cares deeply about the welfare of earth's animals, in general, and specifically her own adorable Pomeranian, Coco, who recently celebrated his first birthday.
Shara — and the entire D1 Music team — are gratified to be able to join Mike in using the launch of Shara's second single to help bring further attention to, and to help raise funds for, the highly respected American Humane Association.
About the American Humane Association
The mission of American Humane Association is to ensure the welfare, wellness and well-being of children and animals, and to unleash the full potential of the bond between humans and animals to the mutual benefit of both. Its goal is to measurably, demonstrably and significantly increase the number of children and animals who are protected from harm – and the number of humans and animals whose lives are enriched – through direct action, thought leadership, policy innovation, and expansion of proven, effective programs.
Since 1877, the historic American Humane Association has been at the forefront of every major advancement in protecting children, pets and farm animals from abuse and neglect. Today they also lead the way in understanding human-animal interaction and its role in society.
The AHA reaches millions each day through groundbreaking research, education, training and services that span a wide network of organizations, agencies and businesses. It is Shara's hope, however, to encourage her fans to get involved directly in supporting the organization and its goals.
Ken Mountcastle, Corporate Relations Officer at AHA, commenting the organization's partnership with "I Will Carry You", observed that "We are honored and excited at the desire of Shara Strand, Mike Greenly, and the D1 Music team to help their wonderful new song bring attention to the Mission that we've been pursuing for more than a century. We hope that Shara's belief in supporting the welfare and well-being of children and animals, and her willingness to speak out on our behalf, will motivate many others to become involved with us as well."
In addition to sharing their song royalties from "I Will Carry You" with the AHA, Shara and the D1 Music team are planning a very engaging social media awareness campaign focused on the song and its partnership with the AHA. Part of this initiative will be a fun photo contest open to fans across the country … with financial contributions made by Shara and the D1 Team specifically in honor of the winning contestant and their pets, who will be recognized by name.
CONTACT DETAILS
60 Sutton Pl S, New York, NY 10022
(212) 758-5338