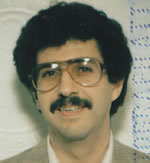 NOTE: I first met Hank in Dallas, in the summer of 1984, when I was covering the Republican National Convention via "interactive computer".  He was smart and savvy, as he still is today, and I'm grateful for his stepping up to offer the first post in this series.  – Mike
By Hank Mishkoff
I was working for Texas Instruments thirty years ago when they decided to open a chain of what they called "Learning Centers," which were basically showcases for the TI Home Computer and their other consumer products. The Learning Centers also offered free "workshops" in various aspects of technology. (It's hard to remember now, but back in 1982 only professionals and hobbyists knew much of anything about the uses of computer technology. TI felt that the general public had to be educated about the subject if they were going to invite computers into their homes.)
One of my assignments was to develop and deliver a course about telecommunications that highlighted uses that might be of interest to consumers. At the time, I was a casual user of The Source and CompuServe, two of the pioneers in consumer online services, but I didn't know much about them other than that they featured discussion groups that were incredibly useful for making travel plans. For example:
One of the best views I've ever seen was from the balcony of a hotel room in Domme, France, where I stayed at the insistence of a woman I met online.
I once got a personal tour of Madrid from Nico, a guy I met on CompuServe, for the price of a meal at a burger joint called Alfredo's Barbacoa (motto: "Genuino Sabor Americano!"), where we engaged in this memorable conversation:
Me: "How did you learn to speak such good English?"
Nico: "American television."
Me: "CNN?"
Nico: "MTV."
On the theory that I was not going to be able to hold the attention of an audience for a full hour by showing them how to use computer telecommunication technology to plan their next vacation, I decided to conduct some research to find out what else was going on in the online world.
I fired up my TI Home Computer, hooked up the 300-baud modem to a phone line, and dialed in to The Source. Even though the service was text-only (no graphics), the interaction was painfully slow – and since The Source charged by the hour, I was thankful that my research was on TI's dime.
The first interesting feature I found was a discussion group called "Sourcex" which was run by a woman named Anne Singleton Blocker, a garrulous and enthusiastic Texan who was a distant relative of Dan Blocker of "Bonanza" fame. I'm not sure of the spelling of the name of the group, but I am sure that it was some kind of combination of "Source" and "Sex," as the group was a frank and freewheeling discussion of human sexuality. (I would have loved to have been able to discuss this with Ms. Blocker, but some quick research reveals that she died in May 2013, less than six months ago as I write this. So it goes.)
As fascinating as I found Sourcex, I had the feeling that TI would not want me to demonstrate it to a group of office workers on their lunch hour – although it might have held their attention, I doubted that it represented the image that TI wanted to convey to its target audience. (This short-sightedness was obviously the cause of the demise of the Home Computer the following year.)
So I continued to search The Source, looking for something that TI would consider respectable enough to demo to a group of potential customers. And that's how I stumbled across a service called "Participate," or just "Parti" for short.
If Sourcex was a discussion group about sex, Parti was a discussion group about… anything. And everything.
The software behind Parti was incredibly sophisticated for its day, and unbelievably flexible. Anyone could launch a discussion about anything. If you wanted to take an existing discussion off in a different direction, you could branch a new discussion off the original discussion, so as not to clutter up the first discussion with the new material. And then you could branch even more new discussions off the branching discussion, so even the branches could have branches, ad infinitum, a structured maze of people talking about anything that they wanted to talk about.
And so on January 18, 1982, in the midst of the coldest month in Chicago's history, TI flew me up from Dallas to deliver my telecommunications workshop at the opening of their first Learning Center, in the Merchandise Mart on the Chicago River, maybe half a mile from the shores of Lake Michigan, where I learned that the blustery winds of the Windy City are especially bitter when the thermometer says that it's 25 below zero.
On the other hand, my workshop was well attended, possibly because so many people were eager to duck into a building – any building – to escape the weather that was brutal even by Chicago's standards.
Once I started demonstrating Parti to my captive audience, I could see their eyes light up as they realized that technology wasn't just wires and circuit boards, technology was people establishing connections with other people in ways that had never before been possible.
My Parti demo was live. I started a new online discussion. I responded to notes in other discussions. Other Partiers responded to some of my notes before the workshop ended. In spite of the fact that nobody on Parti said anything about sex, the audience was enthralled just the same.
Parti, by the way, was the brainchild of Dr. Chandler Harrison Stevens, "Harry" to his friends. I would have loved to have touched base with Harry about this reminiscence, but he died last year. So it goes. As his obit points out, Harry was "active in public service and politics throughout his life, a pioneer in computer networking with a passion for citizen feedback, environmental protection, and social justice." If the fact that both of the people I wanted to speak with about this article died shortly before I had the chance to contact them motivates you to spend more time communicating with your friends while they're still alive, I think it's safe to say that both Anne and Harry would have been pleased.
About Hank Mishkoff
Hank Mishkoff (
Hank@WebFeats.com
) is a writer, a programmer, a web developer, and a musician. In other words, he's either an all-around Renaissance Man wannabe or he's still trying to figure out what he wants to do when he grows up."
CONTACT DETAILS
60 Sutton Pl S, New York, NY 10022
(212) 758-5338