The Tux is fresh out of the cleaner's, and I'm excited for the privilege of attending the Miss America Pageant in person this year, after watching it intently for so much of my life.
I'll be a guest of former Miss Virginia (1978) and Miss America (1979) Kylene Barker McNeill. This is the result of my having written Virginia's new anthem, "Our Great Virginia."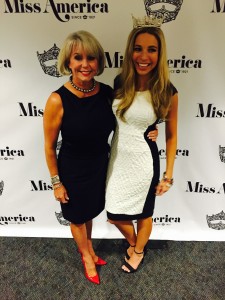 For now, I'm forbidden from any contact with Kylene, since she's a Preliminary Judge this year – helping to choose the contestants who'll compete in the national ABC broadcast this Sunday night. Here she is with the reigning Miss America, Kira Kazantsev from the San Francisco Bay Area.
In getting to know Kylene, I've gained a heightened sense of respect for every contestant, and for the program itself.   that it offers the largest scholarship program for women in the United States … boosting careers and achievements.
The Miss America Program has allowed many young women to graduate debt-free – tremendously important, given the high cost of education.  Ms. Dierdre Downs wanted to be a doctor and was in the Miss Alabama Pageant 4 times before winning but won scholarship money every year.  After finally winning the State Title she went on to win Miss America (2005.) She is now DOCTOR Deirdre Downs and debt-free.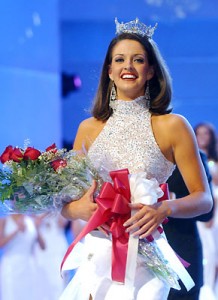 This is a back-stage video clip of Kylene being "challenged" this week by comedienne, Dana Blizzard.   Kylene's winning talent for was an astonishing acrobatic dance act. Here, tough, you'll see what a game gal she is … with the kind of "ready for it" spirit that helps to define a champion. Can't wait to meet her – I admire and enjoy her already.
CONTACT DETAILS
60 Sutton Pl S, New York, NY 10022
(212) 758-5338