After almost twenty years without a state song, the Commonwealth of Virginia now officially has two … one of which, astoundingly enough, is mine!
As of July 1, 2015, "Our Great Virginia" became the official anthem of the Commonwealth … the Traditional State Song of Virginia. ("Sweet Virginia Breeze" by Robbin Thompson became the official Popular Song.)  Governor Terry McAuliffe signed both songs into law on March 26.
In mid-August, 2015, my two Virginia champions of the song … Historian, Prof. James ("Bud") Robertson and his dynamic wife Betty … visited New York City from their beloved state to join me, DJ Tony Smith, and Jim and Sophia Papoulis for a celebration of what we had accomplished together.
Crucial to making this happen was Virginian, Truman Ross.  When Bud was looking for a lyricist, Truman helped by turning to my best-in-class professional song plugger in Nashville, Chris Keaton (originally a Virginian, himself) who recommended me.
The assignment was to write lyrics to the classic American folksong, "Oh, Shenandoah," long associated with Virginia.  (One of these days, I hope to visit the Shenandoah Valley and see the Shenandoah River in person.)
Composer/Conductor Jim Papoulis – my partner in composing three of the four Dance Club songs I've written that became Billboard-charted hits – did the beautiful arrangement of the folk song with my words.
Sophia Papoulis – in addition to her gorgeous vocals in one of its performances – helped manage the project with grace and professionalism.
And DJ Tony Smith – a bona fide legend from the Disco Days, who's still at the top of his game –  helps me pursue my passion for songwriting and makes my life happy in countless ways. (If you want to hear his work, he has a regular Disco Classics program on Sirius XM Radio, Channel 54, every Thursday night @ 9pm Eastern … repeated Mondays at 1pm Eastern.  The sounds and focus vary from week to week.)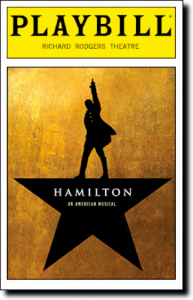 So the six of us had a wonderful dinner at Gallagher's Steakhouse.  The next night, the Robertsons, Tony and I saw "Hamilton" … one of the most impressive and influential Broadway musicals I will ever have seen in my decades of avid theater-going.
So … let it be known … Happy Workaholic I may be … but we did take time to celebrate in style.  I'm immensely honored (and still amazed) actually to have written a real state song.  And I'm grateful to my parents, Sam and Lucille Greenly, who gave me the strong work ethic that still powers me today as I use the few real aptitudes I have – as a writer … whether of speeches, video scripts or songs.  I'm a happy and lucky guy.
CONTACT DETAILS
60 Sutton Pl S, New York, NY 10022
(212) 758-5338