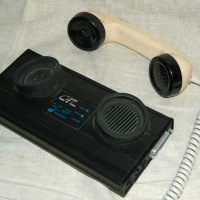 We take for granted these days that we can use social media to create and share text, pictures, videos, voice, music, live teleconferences and more — all around the world with just a click or two at the keyboard.
It wasn't always that way, of course. Thirty years ago — when basic text alone was all we could share — people like myself subscribed to various services that gave us access to the Internet and to each other. It was fun, exciting and new to send messages to someone — or a bunch of separate someones. In different countries. Different time zones. But sharing a common interest.
There were various terms for what we did and how we explored "computer mediated communication" — bulletin boards, Notepad, MetaNet, Internet Relay Chat, and more. There was no live texting back then with a simultaneous exchange; instead this was "asynchronous" communication.
We were early adopters of "computer-mediated communications"… accessing each other through early online services such as The Source, CompuServe, bulletin boards, Internet Relay Chats (IRC), and using software like "Parti" to hold these global group conversations.
Everything we did was practically primitive compared with today. Just the act of logging on was a concentrated effort — with an acoustic coupler modem, its squawking connection noises, and its extremely slow rates of transferring data.
At the time, however cumbersome, slow and unreliable these connections were, they felt miraculous.
Well, I remember those days and how exciting they were. A lot of us, in fact, thought of ours elves as planting the "seeds" of the future … as we generated "content" and paid dearly for the privilege of sharing it.
I'm curious to know if it's a worthwhile venture to create a book that captures the memories and experiences of everyone still around who played an active role in computer communications back in those early days … anyone who is willing to put some thought and time into writing about what it was like.
With enough participation, I'll turn it into a digital book … with every cent of profit going to several worthy charities.
I'd love to hear from you.
CONTACT DETAILS
60 Sutton Pl S, New York, NY 10022
(212) 758-5338